The Solopark County Open

The Thorpe Wood golf course at the Nene Park Golf was the venue of the 2016 County Open, sponsored by Solopark Ltd Period Home Supplies of Pampisford. It was the first time that the club have held this event. The weather was fine and sunny for the morning start but with a gentle breeze. There was a full field of 63 local golfers which included 17 local professionals, over double the number that competed last year at Gog Magog, which was excellent for this prestigious event.

The early leader with a score of 2 under par 70, was Miles Collins a professional playing out of Stoke by Nayland, who used to play county golf for Cambridgeshire. His father Gerald, himself a past captain of the County team, was on the bag. The highlight of his morning round was a drive and 8 iron to a foot for eagle on the par 5 18th hole.

This score remained in the lead until late in the morning when professional Adam Pike came in with an excellent 68 that contained 6 birdies and an eagle. Adam, himself a former County player, lost in a play off to James Reeson in the 2013 County Championship at St Ives and was one of the best golfers in the Midlands Golf Union before turning professional a couple of years ago.

Other golfers in close contention at the end of round 1 were Nicholas Smits from Gog Magog on 70, Paul Maddy, the Challenge Tour professional playing out of Gog Magog, with a 71, and County Champion James Reeson from Brampton Park, also on 71.

Smits, Reeson and Danny Loveday had played a gruelling 72 holes the previous 2 days in the Midland Amateur where James finished a creditable 8th and Nicholas 12th.

Leading amateur for the John Durman Handicap Trophy was young Joe Gore who plays for the County Boys team and is a member of St Neots. He scored an amazing 75 - 8 = 67 to lead by 2 shots from his fellow team mate Owen Meeds who also plays out of St Neots who scored 73 - 4 = 69. It was amazing because just 4 weeks ago, Joe was seriously ill in hospital with a burst appendix and was still nowhere near fully recovered. Beware the injured golfer!

The afternoon saw the consistent Collins come with a 69 for an excellent total of 139. Later in the afternoon he was joined on this total by the morning leader Pike who birdied his last hole to get into a possible play off with Collins.

They were then joined on this score by Nicholas Smits who also birdied his last hole to join them on 139. Nicholas, who was born in Holland, has come over from the USA where he was in college, recently finished runner up in the County Championship. He has been a mighty asset this season to both the County team and the Gog Magog team.

This meant that there needed to be a four hole play off over holes 15 - 18 to decide the County Open Championship. It was nearly a four way play off as Paul Maddy horseshoed out for his birdie on 18 that would have put him on 139 also.

They all made par on the 15th then Adam Pike made a birdie 2 at the 200 yards par 3 sixteenth hole to lead Miles Collins by one shot and Nick Smits by 2 shots who unfortunately bogeyed the hole.

Adam and Miles then birdied the par five 17th hole to Nick's par which meant that it looks to be between the two of them with one hole to play unless Nick could make an eagle on eighteen.

Adam unfortunately bunkered his tee shot but the other two smashed their drives to within a wedge of this par five hole.

Nick Smits unfortunately messed up his short iron into the green, finishing in the ditch short of the green which put him out of it.

With Adam struggling to make par, Miles hit a wedge onto the green to 25 feet and then proceeded to hole the downhill putt for an eagle 3 and to win this exciting play off and become the County Open Champion.

Joe Gore came in with another fantastic score of 68 net to add to his 67 in the morning to win the John Durman Handicap Trophy by 4 shots from his clubmate Owen Meeds.

A special mention must go to John Durman, a great supporter of Cambridgeshire County golf who donated this trophy in 2010 which has been won the last 3 years by County juniors Callum Brooks, Aron Kumar, and now Joe Gore and in 2011 by a young Toby Crisp. It gives the youngsters who are not quite ready to take on the professionals and top County players, the chance to get noticed by the County selectors and to get their names on a big trophy. Both Callum and Aron, along with talented youngster Ollie Rust of Gog Magog all finished up winning gross prizes yesterday so the introduction of this handicap trophy is clearly working.

Local professional and two times County Open winner, Stuart Brown had a disappointing day with rounds of 75 & 74. Stuart was one of the pre tournament favourites yesterday following his tremendous showing in the Titleist & Footjoy PGA Professional Championship at the Oxfordshire Resort course where he finished joint 3rd with scores of 69, 70, 69, 72 for a total of 280 and a cheque for £3975. He now has a great chance to represent his country in next year's club professionals match against the American club professional team.
The Thorpe Wood course was in fine condition and the greens were as quick and true as I have seen them so all credit to the Course Manager and his staff who were out preparing the course for us at 4 am, cutting and ironing the greens.

The catering and bar service were under a lot of pressure with the restaurant very busy for Sunday lunches as well as feeding hungry golfers and they all did very well, so a big thank you to Sue and her staff.

Many thanks also to Simon Fitton for inviting the County to play on his superb golf course and to club captain Chris Naylor and Operations Manager Robin for all of their help during the day.

And finally, a massive thank you to Rodney Bird the owner of Solopark for his generous sponsorship. This year over £1100 was given out in vouchers for the amateurs and £2000 for the professionals.

Next year's County Open is on the 20th August on the Gog Magog Old Course.
The main prize winners were as follows:-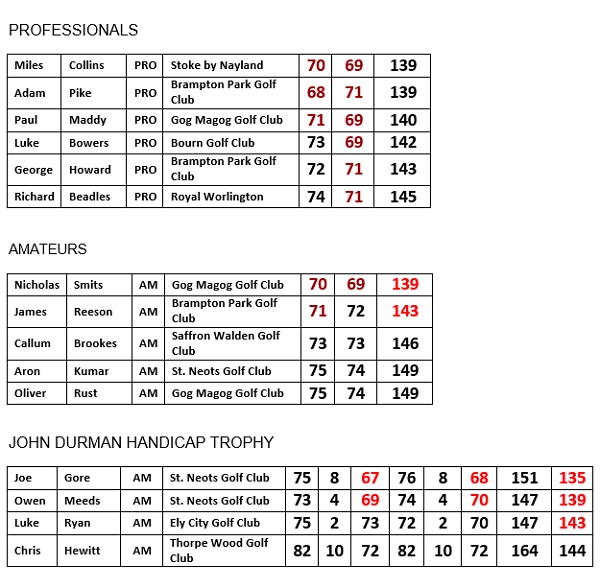 Please click here for the full results.